Neo Insight's e-newsletter on Customer Experience topics and techniques.

We invite you to subscribe to our monthly
e-newsletter:
In this issue
---
Refine the My Account experience
Customers who regularly visit the "My Account" section of your website, either from a bookmark or direct from search, may rarely see your Home page. For them, their "My Account" effectively is their Home page. It is the page from where they start other tasks.
Why is this important? 15% of bills are now paperless. 64% of households pay bills online; like utility bills, phone bills, etc. Vendors minimize the cost of paper and transactions. We lose less trees. It is a win-win. Is your "My Account" section keeping pace with website-visitor expectations?
The more your customers look at their bill or do account-related tasks on your website, the less they need your generic home page. Their interactions with signed-in content may be the only experiences they have on your website. Similarly, when visitors do online banking tasks, the log-in area is all they need. They don't need navigational menus or ads for new customers, or about the history of the bank. Your customer may just need to do account-related tasks. This can pose unique challenges. Here are some guidelines.
Let the visitor sign in right away
The challenge starts the moment your customer arrives on your site. Visitors who come to do something on their account will scan for the sign-in entry fields. Don't make them click once or twice to find them. It's like making a customer hunt for your front door.
Recommendation: Let your visitors sign in from whatever page they land on.

Help the visitor move forward
After you authenticate your customer's sign-in credentials, provide direct access to the top tasks and offer links to other high frequency or related tasks. As they navigate, they are indicating their area of interest. So offer content and links specific to that area of interest. Don't distract them with non-relevant links to other sections of the website. Don't bother them with generic menus for visitors that are not signed in. Cut the "welcome message" after the first visit. Once your customer has signed up to see their bill, don't distract them with links to generic explanations about "Your Bill". Get them to their bill first, then let them click for help if they need explanations.
Recommendation: Make the benefits of signing in very obvious. Clearly show you remember your history with this customer by providing personalized links.
Remember what your visitor tells you
Keep your customer on-track as they move forward. After they finish the task they came to do, you have a moment to provide related or follow-on links. That's the time they may look for promotional offers to save money, or new products or services related to what they have. A really high priority is to remember what products and services your customers have. Prioritise these in navigation, and in the support topics and discussions you list first.
Once your visitor has given you important information, they have an expectation you are listening. Our studies have shown that visitors expect their account to reflect the information they gave you. Customizing links to their history with you shows that you are listening. Behaving as someone that is not listening or that has forgotten about previous interactions is a fast way to destroy a relationship.
Recommendation: Offer links related to a customer's current products or services.
The worst thing you can do is try to sell them something you already sold them.

Let people do their task in one place, rather than in different databases
Customers sign in to get information that may happen to reside on different databases. But they don't care that it may come from multiple databases. Your customers assume their account data should all be accessible in one place in real-time.
The challenge is that integrating all account data can be a significant technology leap forward for organizations with legacy databases. Your underlying databases may have single sign-on access, but may not access each other's data. For example, a customer may come to view current activity and potential upgrades. If those databases are not integrated, you will make the visitor hunt around in two different areas of the website. Your customer won't value the time it takes them to hunt around your databases. They won't value having to learn different menus or interaction mechanisms for selecting, inputting data, or searching in different databases or applications. Yet your customers expect you to be able to explain to them upgrades they should consider, or how your products and services are used with each other.
Recommendation: Observe your customers to find out follow-on tasks people want to do in their online account, and support those tasks without making customers learn how to operate different databases or applications.
Unify the personal and online experience
Remember your customer is doing one task. They may have started it by email, or in person. You might have told them an expected date to expect shipment. Maybe you have different systems for their web visit, their emails, and conversations with your call centre, but to the customer they are all part of one task. Your customer may think of their task as one frustrating experience if you separate the organizations or systems that support web vs. email vs. call centre.
Many customers who log in to see their account may email or phone you afterward, or may have done so before they arrive at your website. Don't make them repeat themselves.
Recommendation: Provide links directly into the right area of your customer's account, with numbers that help track your customer's previous interactions with you. If you confirm orders by email, include a link with the tracking number so users can follow up online or by phone.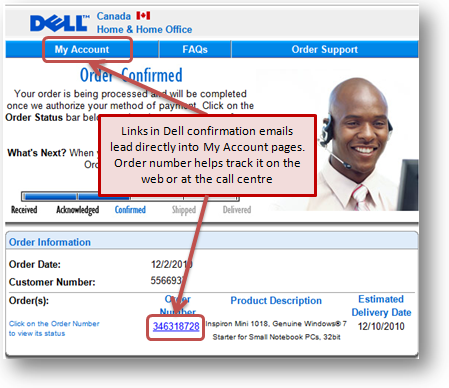 Let customers ease gracefully into new functions
Even the most valuable functions of online accounts take time for people to adopt. Online viewing of a customer's bill, changes, upgrades, and dispute-resolution will take time for your customers to adopt. It is not that customers don't trust you. Rather they are building their trust-level the more they do things on their online account. So you constantly have to earn their trust. Customers are gradually getting used to the general idea, one task at a time. Help them. Ease them into other account tasks gracefully.
Recommendation: If you want people to adopt a new feature like a paperless monthly bill, improve the user experience for it. Let them trial it so they don't feel coerced.
When you solve a problem for your customer, include it on their account so they know how to do that task online next time; if that happens on the call centre or by email, then show them how to follow up or track it online.
Recommendation: Let customers have a paperless version as well as a paper-bill. Let them choose whether to call or email. Let customers phase out of older methods organically.
All of these principles above come out of usability testing. You can best apply them by observing your own customers in usability testing. We've done this in various ways for clients, such as recruiting new customers right off the sales floor, remote usability testing of customers' tasks on "My Account". Surveys and website visitor polls are other ways we have helped identify visitors' top tasks and priorities. We would love to help you test your customer account experience. Contact us at 613-271-3001 or email us.
Related articles
---
Your customers' experiences with product support on your website are critical. They determine whether your customers become advocates or antagonists to your products and company. Their experiences directly impact sales. A good experience can lead to repeat sales, upgrades, and increased consumption.
Whether people are trying to download, install, configure, upgrade or troubleshoot, they all want to complete their tasks as quickly and easily as possible. Taking a top task management approach to design of the support section of your website optimizes the customer experience by making the most frequent and critical tasks immediately available, reducing clutter and distractions, and providing support for common sequences of support activities or workflows.
In this webinar Gerry & Gord will explore why many support websites simply add to the frustration people already have when accessing support and share with you some of the top task management strategy and techniques that make your support website not only more effective but an asset that can generate new revenue.
The webinar takes place 11AM – Noon EST on Monday January 17th, 2011.
---
Last month we asked you to share your most frustrating web experiences leading up to Christmas for a chance to win a $50 Amazon Gift certificate.
Congratulations to Conrad Amenta for his winning contribution. We've had a look at the site submitted and there are a number of opportunities for further improving the visitor experience and saving a lot of time for the community at large. Here is a summary of the frustrating experience Conrad shared with us.
"I was trying to find the pool schedule for lane swimming at the YMCA.

First you're asked to select a Y location, and the names aren't obvious ('Metro Central' is Centertown, but there's another Y downtown, called 'Downtown').

Pool information is not under 'Facility information' as one might think – you have to click on 'Download our Health, Fitness and Recreation Drop-In Schedules' – which then takes you to a new page listing drop-in schedules for all Y locations, even though you've already specified the Y you're interested in.

At the bottom of THAT list, if someone scrolls far enough to see it, it says 'Click to view Drop-in Pool Schedules'.

It took a good FIVE minutes to find the pool schedule the first time through."
---

Back to Top
---
Quote of the month
"Spend a lot of time talking to customers. You'd be amazed how many companies don't listen to their customers."
Ross Perot
---
If you have any comments on The Insighter, or ideas on usability topics you'd like to send us an email.
We invite you to subscribe to our monthly
e-newsletter.