Neo Insight's e-newsletter on Customer Experience topics and techniques.

We invite you to subscribe to our monthly
e-newsletter:
In this issue
Upcoming events
| | |
| --- | --- |
| Feb 22, 2010 | Task Management Webinar, Gerry McGovern |
| Mar 12-16, 2010 | SXSW2010 Interactive, South by Southwest Conferences, Austin, TX |
| Mar 22-26, 2010 | Usability Week 2010, Nielsen Norman Group, New York, NY |
| May 31 - Jun 2 | Graphics Interface 2010 Ottawa, ON |
---
Free Gerry McGovern Webinar: What Task Management can do for your organization
Is your organization ready for the strategic shift towards managing tasks instead of just managing websites? Gerry McGovern's webinar will explain how you can use Customer Carewords to help you identify in a clear and defensible manner your customers' top tasks. Task management gives you facts, not opinion. It gives you the tools to make your website even more customer-centric.

· Register at https://www2.gotomeeting.com/register/651356026
· Mark your calendar for Monday February 22 at 10:00 AM - 11:00 AM EST
---
Top 4 trends in search usability
We recently pulled together the trends in site-based search for a client. They were about to purchase a search engine application for their site, and wanted to evaluate the options in a usability context. Behaviour patterns we observed in hundreds of usability tests last year helped us pick through the plethora of new features to focus on those that have the most impact on usability. We've pulled a few of them together here – if you are choosing a search engine for your company or a client, make sure that you consider how well they support these trends.
Sites like Amazon, eBay and Apple stand out as leaders in search usability – they have a good handle on the 'search usability = higher sales' equation. The good news is that ideas from these sites are starting to become available in search engines for any type of site. The trends below are examples of ideas or features at the forefront of the user experience for search. Most of these trends involve integrating browsing and searching into a fluid experience.
Search Trend 1: Context-sensitive search scoping
Sites are more frequently offering users ways to manage the scope of their search. Rather than treating search as a stand-alone application, and sending users to another page to search, sites are interweaving search into their browsing and menu structures.
Scope-selections for the search bar may show the same options as the main menu. Browsing into menu items feeds those selections into the scope of the search. Search tracks what the user clicks on to offer categories related to the user's context. If the user does then choose to search, the pre-selected scope saves a step towards a successful search, focusing the search results into a more likely set of targets. As a side benefit, adding the scoping into the search subtly trains the user in the categorical structure of the site.
Example: At eBay.com, browsing through the Musical Instruments category to Brass keeps the category trail available in the breadcrumb. It also loads 'Brass' into the Search scope, ready if the user wants to enter a specific instrument or brand name. Notable also in this example, in terms of the integration trend, is that the user's browsing is identified as a 'search', with options to Refine the search, and related searches.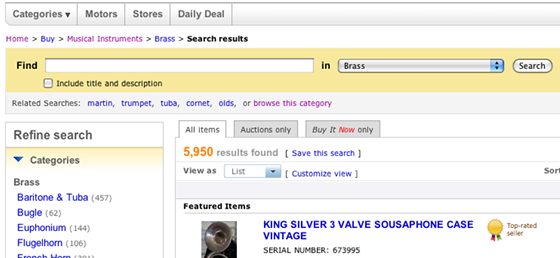 Search Trend 2: Integration of Navigation Elements into Auto-Complete
More and more, search offers related content, even as users type their search terms. Also known as "type ahead", auto-complete offers search terms and search suggestions, in a list that drops-down as the searcher begins to type. The searcher can choose to select one of the items or can continue to type, narrowing the options further. Auto-complete avoids spelling errors and trains searchers in the site's information architecture and in successful search terms. The list has to drop down quickly – too slow and the searcher has already hit enter!
Input from search logs can be used to further groom the lists, providing best bets and related terms. History search terms may also be provided, with the option to clear them.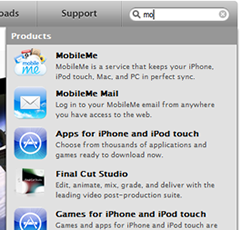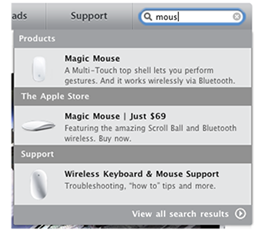 In this Apple.com example, the categories help clarify the suggestions and reinforce the site architecture. While Google and most engines simply transform the auto-complete into a search term, Apple is providing direct links to pages from some items in their auto-complete lists. This gets the user directly to content, skipping the search results step completely. The option to view all of the search results is still available in the Apple search, by clicking Enter or the 'View all search results' link at the bottom of the drop-down list.
Search Trend 3: Rich groomed search results
Years of web search engine research has introduced many new interface solutions to the display of search results. The BBC example below provides an example of usability-oriented features without overloading the screen with too many controls:

Search Trend 4: Fluid Integration of Browsing Options into Search Results
Complementary to Trend #1, browsing options are more frequently being modified by users' search terms. Internet search users are becoming familiar with facets–categories that are dynamically selected based on the search term. They are usually displayed with an item count, indicating the number of results available via each facet, to help the user decide whether to continue entering search terms or to browse through the facet items. Most e-commerce and library sites use faceted search because of the huge number of items in their databases.
The trend in this area is that search applications are offering browsing alternatives beyond facets. These alternatives may simply be existing categories, or may be 'refinements', 'related terms' or 'suggestions'. Once a site has developed a search-centred model, the categories and structure can be leveraged for personalization, browsing and filtering. Experts in the search field claim that with this type of integrated experience, the user becomes better at both browsing and searching.
In terms of public experience with this type of integration, Amazon and eBay provide moving targets, constantly tuning their browsing and searching features. In this Amazon example, the type-ahead provides not just suggested search terms, but also scoping of the search to 'Sports & Outdoors'.

Selecting that option returns the search results layout shown below. Notice how browsing options related to the search term are presented below the search bar, along with other related search suggestions.
Other departments with search term results are provided as facets on the left.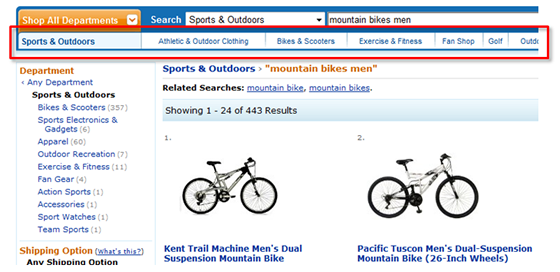 These leading-edge trends involve integrating browsing and searching into a fluid experience. They recognize that search is not a technical issue, but a human activity, part of an information-seeking strategy that mixes browsing with search. They maximize the integration of information provided by the user - often just some typed characters - with the database structure, and an understanding of what might best help users at any moment in time.
Related articles and references
Trying to choose between search engines for your site? Trying to improve the success rate for users who search on your site? Give us a call (613) 271-3001 or email us.

---
Top Neo Tweets

---
Quote of the month
"The fact that some choice is good doesn't necessarily mean that more choice is better."
Barry Schwartz, The Paradox of Choice - Why More Is Less
---
If you have any comments on The Insighter, or ideas on usability topics you'd like to hear about, send us an email.
We invite you to subscribe to our monthly e-newsletter.