We invite you to subscribe to
our monthly e-newsletter:
In this issue
Upcoming events
| | |
| --- | --- |
| Dec 6, 2009 | TEDx Ottawa, Bitheads theatre, Ottawa, Ontario, Canada |
| Feb 4-7, 2010 | Interaction'10, IxDA, Savannah, GA |
| Mar 12-16, 2010 | SXSW2010 Interactive, South by Southwest Conferences, Austin, TX |
| Mar 22-26, 2010 | Usability Week 2010, Nielsen Norman Group, New York |
---
Your website management strategy in 1 chart (part 2 of 2)
First iteration strategy: Focus only on the top 5% of tasks
In Part 1 of 'Your website management strategy in 1 chart', we showed why the most effective web strategy might be to focus only on users' Top Tasks – even if only for a while.
Supposing you can't 'ignore' the other 95%?
In practice, it's impossible to ignore the 95% of lower-priority user tasks completely, because they have an impact on users' performance of those top 5%. The common strategic issue of the 95% of lower-priority tasks is that they damage user performance on the top 5% of tasks. In trying to cater for everyone and every task, you cater for no-one – and damage your strategy and business model.
Sometimes it's also not politically expedient to actively ignore the bulk of your organization's work. Sometimes you just have no choice. So here's a refined strategy – still in 1 slide: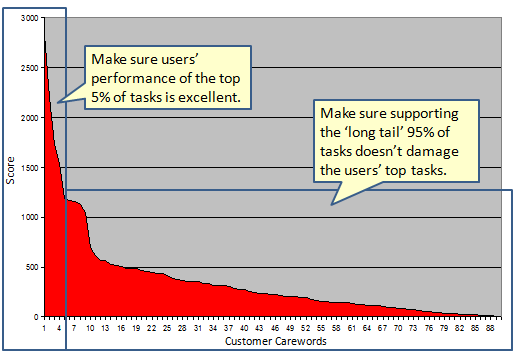 Let's look at that new strategic component:
Make sure supporting the 'long tail' 95% of tasks doesn't damage the users' top tasks.
If your website is typical, then much content is low priority. Some will be out of date. Some will have no owner or author. Probably, there are pages and content that no-one even knows are there. Some pages are never accessed. Some content is never read. Some content supports tasks that no-one ever does. Some content is necessary because of the need to provide an alternate language, or because it is required by law, policy, etc. The bulk of most website content supports infrequent and low priority tasks.
And all of this low priority content has a number of major detrimental outcomes:
The site's Information Architecture is warped, driven by the need to accommodate the mass of low-priority content, instead of delivering excellent performance on top tasks.
Each additional page of content necessitates multiple new navigation links from other pages, creating more 'noise' in the navigation scheme, and incrementally making it more difficult for users to find the content they need.
Each additional page of content provides yet another search 'result' that confuses users and reduces the likelihood of them finding the content they need.
Each additional page of content requires time and effort – periodic link maintenance, updating, quality assurance, storage, presence in the CMS, indexing, meta-tagging, comparision of web statistics, etc.. This effort may be almost un-noticeable for any one page, but becomes enormous as it accumulates on typical large websites.
The point of the strategy is still to focus on the top tasks. This means not focusing on content unless it serves a top task. This also means that the only attention you should pay the other 95% is when it damages users' top task performance. What you'll find is that by enabling excellent performance on the top 5%, you will naturally start to archive, remove, re-work, and push down in the navigation all that other content – starting with the content that is most damaging to users' top task performance.
Evolving your website strategy: Looking for 'quick wins' in the next 5%
If you still feel a little nervous about taking such a strong stance with management, or if your bosses prefer a more nuanced strategy, then perhaps this slightly more subtle approach is for you: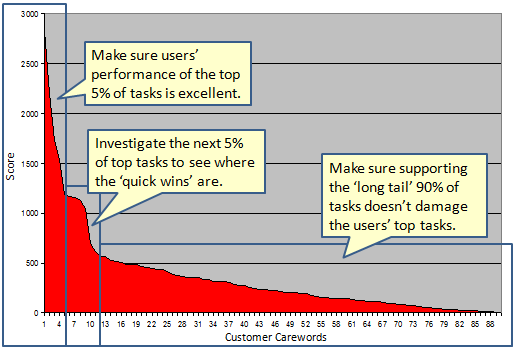 The priority remains the same – the top 5% of tasks. But this version allows you to put together a separate (but coordinated) project, looking for what 'quick wins' might be in the next 5% of users' top tasks. There may be secondary tasks that are important to your users, and where performance can be improved with relatively little effort – perhaps bringing a list of links to those tasks up a level, for example.
The strategy's long-term secret
This is the strategy's long-term secret: you never take your eyes off the top tasks. You start at the top and work your way down, but you never take your eyes off the top tasks.
Once the users' performance on their top tasks is excellent (as measured by completion rates, completion time, etc), you check regularly to ensure that it stays that way. That's because other projects in your organization might damage the vital work you've already done, and because websites, left to themselves, tend to decay. And even once you've got the top tasks working well for your customers, when you get to dealing with the next-priority set of tasks, you need to make sure you're not undoing your earlier good work. It's more a process of benchmarking and continuous improvement, than a one-off 'project'.
Another related secret is that you should assign responsibility for users' top task performance to a senior manager or managers. Managing by top tasks instead of by the technology, tools and content requires a change in mindset. But that's another story...
Related articles and references
---
Findability is your key to success on the web
We conducted a large number of Customer Centric Index (CCI) projects over the past year that measured those factors that were really annoying customers on client websites or intranets. Invariably the two largest contributors to a negative experience are poor search results and confusing menus and links. People are having difficulty with the basics, difficulty finding their desired content.
Findability of content is a critical precursor to website usability. If people can't find the content or application how can they make use of it? How can they accomplish their tasks?
Ignoring findability can be very costly. It prevents your website from acting as the self-service asset which it was intended to be. In fact it can become a liability in terms of lost sales, reduced use, and increased customer dissatisfaction. Poor findability wastes your visitors' time, reduces task completion rates, lengthens task completion time and sometimes results in costly errors. Worse yet it can drive people away from your website, never to return.
If people have difficulty finding their desired content they will take the easiest path forward. If they have a choice, they will move on to a less frustrating website – usually only one or two clicks away. If there is no alternative website, they will use your website as little as possible and resort to other means, such as phone and personal contact, to accomplish their tasks. Obviously the latter strategies defeat the purpose of having a self-service website and can be very costly to your organization.
The following quotes are from some of our recent task performance testing projects. They provide a sense of some of the frustration many customers are experiencing.
"I'm just a small business person. I will do everything in my power not to use this website."
"Going to a web page is the last option, when you can't get hold of someone."
"I waste a considerable amount of time and effort trying to locate something on <website name> and usually end up getting frustrated and calling the corporate office instead."
We often find people going to great lengths to avoid or minimize their use of a website that makes it difficult for them to find their desired content, even in situations where they also believe the content to be very valuable. Many people will get help from others, bookmark the page, and never explore the full richness the website has to offer. They never find out about the great new content or added capabilities.
How would you, as a store owner, feel if you spent a lot of time and effort setting up displays at your front door, bringing in exciting new product displays, etc. only to find out that most of your customers are parachuting directly into one or two spots they've visited before, conducting their business and leaving? All your efforts at the front door or on aisle displays would be wasted. That is what bookmarks do.
When we told people in a recent project that they could not use their bookmarks to accomplish certain tasks they reacted as if we had chopped off one of their limbs, making comments such as:
"If I don't bookmark it, I'll never find it again."
"I rummage around the <website name> and finally find what I need and then I bookmark it so I don't have to stumble around again."
Findability is key to your success on the web. When it is lacking, people quickly become frustrated and negative feelings develop. Here's how one test participant expressed his frustration:
"I compare <intranet website> to taking every piece of information ever compiled by someone in some role that is then dumped into a large trash bin which we are to dig through until we find what we want."
Another test participant was even more colourful in his response. After struggling through 8 or 9 tasks we asked "Would you have time for one more?" His response was "Are you asking me if I'm a masochist?" Not the type of response you want to hear about your customers' experience.
You can measure the costs associated with having to support people who have difficulty finding content on your site but you may never know the costs and lost opportunities associated with people who came and never returned.
Don't make assumptions about the ease of finding content on your website – test it and test it often, especially for the top tasks. If you need help uncovering aspects of your website that are preventing it from attaining its true potential we are here to help. Give us a call at 613 271-3001.
Related articles and references
---
Search performance indicator
Performance measurement offers new ways to manage effectiveness and efficiency of tasks. Search is often associated with top tasks and a key component of findability on the web. Through our partnership with Gerry McGovern we've been helping to research and develop the Search Performance Indicator – a new technique for measuring and helping you manage one of the key user strategies on almost every website, namely search.
Our research has shown that on a typical public website or intranet, 5 percent of searches represents roughly 40 percent of search volume. Thus, even in very large websites we have found that the top 400 search terms represent at least 50% of search volume.
Just like top tasks, there are top searches. This allows us to focus our efforts on a manageable number of search terms and optimize the relevance of the search results to your customers. Search engine optimization gets people to your site. The Search Performance process makes sure people get through your website to their desired content quickly and easily.
By providing a metric for search task success, we are able to establish baselines, identify opportunities for improving the search results, and measure progress towards our goals. By evaluating your search results against over 100 factors that can impact search success we are able to help you optimize your search engine and strategy.
To further expand our industry search performance database we are currently offering a 30% discount on Search Performance evaluations to qualified organizations who would like to anonymously contribute their search data to our benchmarking activity. If you are interested in obtaining a Search Performance Indicator propsal or have questions as to how our process can improve your customer experience please contact us at 613 271-3001.

---
Top Neo Tweets
ClickTale launches Mouse Move Heatmap – to visualize users' mouse movements – not just clicks and scrolls – http://bit.ly/MouseMoveHeatmap
Good navigational menus are unsubtle, clear, precise, familiar, consistent, boring, unemotional – http://bit.ly/3ze0xp @gerrymcgovern

---
Quote of the month
Findability precedes usability... You can't use what you can't find.
Peter Morville, author of Ambient Findability
---
If you have any comments on The Insighter, or ideas on usability topics you'd like to hear about, send us an email.
We invite you to subscribe to
our monthly e-newsletter.