Neo Insight's e-newsletter on Customer Experience topics and techniques.

We invite you to subscribe to our
monthly e-newsletter:
---

World-renowned Web content and usability expert Gerry McGovern will present his acclaimed one-day Masterclass at a series of intimate venues in four Canadian cities this Spring.
Gerry is an inspiring, thought-provoking and humorous speaker who will give you practical ways to achieve your objective of providing great Web content.
Join us for a unique opportunity to learn about Gerry's proven and powerful techniques for website management. Seating for all events will be limited so act now.
Save

up to $100

on

EARLY BIRD pricing

up until

April 17th

FREE

registration when you pay for 3 registrations up until

April 17th
Subscribe to the Insighter to keep in touch with registration details as they are announced.
Back to Top
---
Once in awhile we ask whether we are in a position to solve the bigger problems. What about the really big problems facing the world right now? Are we as a profession having impact on the economic crises we face? Jobs are critical to the economy. Economists say that getting people into the right jobs more quickly is what our economic engines need. How are user experience professionals rising to the challenge?
We think the user experience is playing a big role – improving how people research, get alerts, and use social networks to find jobs. Web services are delivering data from a variety of databases so users can see it all in one website. Data from many sources is brought right to the page the job-seeker is on. Alerts are keeping users up to the minute. Here are some examples of the ways the user experience is solving these big problems of helping people find better jobs faster.
People analyse the data within job postings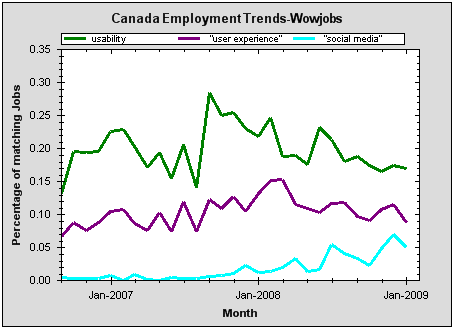 People receive alerts when new jobs are posted
People use social networks to find jobs
Use LinkedIn or other social networks to keep colleagues aware of what you've worked on and what you can do. 85% of jobs are still found through people's personal networks.
Micro-blog about your work and interests through Twitter or similar services. If you don't know what micro-blogging is, get started by looking at our Twitter page.
Set up a Facebook group to support your job search or career development.
If you are an employer, the user experience is changing for you too. Similar methods are helping hiring managers research wage conditions, seek out candidates, design training, and post jobs. You can perhaps see how scanning for key words in job postings helps people write a new job posting, or see wage differences across job titles or job markets. Or use the National Occupation Classification as a starting point to describe your jobs.
If you manage a website, keep in touch with how your users are adopting the above behaviours. You already know "Jobs" is one of your users' top tasks. Look for ways to make your users more effective or efficient at it. You could save your employer a bundle in recruiting.
If you know someone looking for a better job, forward this article to them. Perhaps a small effort on your part will help them find more productive employment faster. If it does – tell somebody that the user experience makes a difference.
---
Your user is in "get there" mode
Users read and scan web pages differently en route to their desired content versus when they get to it. When users are en route, they scan quite quickly. They scan for relevant content or for links to take them closer to it. When they finally arrive at the content they want, they read more than they scan. When your web visitors are en route to their target content, they are in "get there" mode.
To design for "get there" mode, identify the pages where your users arrive. If the pages where your users arrive are navigation pages, test what links are most important to users. They will not want to read. They are in "get there" mode and want to scan for the relevant links as quickly as possible. In "get there" mode users treat navigational menus as a driver treats highway signs – they glance at them, skim through them, find the next link in their quest, and move on quickly.
When users arrive at the content they need, they scroll more slowly. They compare links and content. Links that are well-organized for reading may be too complicated for users in "get there" mode. Even the best-structured content for reading is a poor fit for a user in "get there" mode.
In our usability testing, participants have referred to navigational menus as "highway signs" or "handlebars" – saying they prefer to keep their eyes "on the road". They were in "get there" mode, scanning the middle of the page for links. Perhaps the following fictional example will help illustrate.
The highway sign on the left is optimized for "get there" mode. The fictional sign at right is not. It is a bit like what happens to web pages when people do not design navigation and links for the user's "get-there" mode. Yet if the user is in "read" mode (and is not driving) the groups themselves might work.
Think of the sign at right as a web page carefully crafted for reading. There are seven groups of information, with several phrases each, that get to the point. Great!. The words are meaningful and descriptive. Good thing! They appear accurate and up-to-date. Job well done! Users appreciate all those things – if they have time to read. But users in "get there" mode will just see noise or a blur. They are scanning quickly, sizing up the key message, glancing at the key information, taking action, and moving on. Don't design pages for "get there" mode the same as you design pages for users in reading mode. Even if your information is well-structured, too much information can obscure key content. As Rene Magritte said "everything we see hides another thing we want to see".
View the webinar in which the above slide was presented, by downloading the video of the "Designing navigation" webinar (WMV: 40 MB: 38 minutes).
---
Gerry McGovern's next and most recent webinars
Join us for Gerry's next webinar on April 7
"How Microsoft Office Online Dramatically Increased Customer Satisfaction by 'Weeding the Garden'"

Price: FREE

Date: Tuesday April 7, 2009

Time: Noon - 1:00 pm Eastern Time
This webinar will share some very positive results Microsoft Office Online had after following Gerry's advice on quality control and task management. Office Online is a large web site offering hundreds of free templates, training and help content on Microsoft Office. The Office Online analytics team recognized growing customer frustration and looked at their metrics to identify the less important stuff that must be removed or hidden. Why? To make it easier for customers to find the most important stuff (top tasks). The result? A dramatic improvement in customer satisfaction ratings. Find out how they did it, and how you can do it for your website. This talk will be introduced by Gerry McGovern, and co-presented by Maya Subramanian (analytics) and Laurel Hale (content management) from the Microsoft Office Online Content Publishing team.
If you just can't wait to see Gerry's next webinar, download Gerry's most recent webinar case study regarding the HSBC UK intranet.

---
The tax folks offer an online way for businesses to figure what they owe the government – the Payroll Calculator on the Canada Revenue Agency website. Just try to use it.
Arriving by search works pretty well. The alternative is to wade through the CRA home page plus a couple more pages. Google gets you right the fourth-level page where the Payroll Calculator starts.
After clicking "I Accept", the opening screen prompts you for date, pay periods per year, and province. It has pre-filled the field "Select the province..." for you. CRA knows where users arrive from, so they pre-filled Newfoundland and Labrador. Okay.
A field at the very top suggests you enter an employee's name optionally. If you happen to read the warning, you may wonder whether it is wise. It is pretty arcane: "The completion of the employee's name results in a new aggregation of personal information about this employee at this location". Good thing that field is optional.
About now you might be wondering what that screen said when you clicked "I Accept".
The main group of control buttons

–

print

–

back

–

new

–

summary

–

are at the bottom of the screen, below the fold on many display settings.
"Calculate" sounds like what you came to do. Once you press it, the left menu offers only one menu item: "Save calculation". Except it does not save calculation. It leads to a brief page about how to save a web page. On closer observation, the left menu item is actually under a "Help" header.
There is no left-menu item to get back to the calculations.
You begin to realize that the browser's "Back" button is a very important navigational tool. Apparently to Firefox as well

–

every time you hit your browser's "Back" button, Firefox double-checks to make sure you really want to "Resend".
The "Help" function is in the left menu, below a quaint graphic that doesn't do anything. Neither does "Help" it turns out

–

it is a header for a one-item menu with just "Save Calculation" under it. If a user even notices "Help", they have to figure out why to look there rather than looking at Help in the menu at top.
If you do click the Help button at the top, they take you far from the Payroll Calculator.
Menu items under the left-menu "Help" disappear and re-appear

–

they are contextual. But in the middle of a payroll calculation, there is no other menu item than "Save calculation"

–

remember that's the menu item that doesn't save your calculation.
In calculation mode, no other menu item is active on the left menu. Not one.
In the primary scanning area of the calculation screen, the only action you can take is use the CLF2 buttons

–

or scroll below the fold to see the main control buttons. Perhaps you'll use the "Back" button out of the Payroll Calculator

–

and start all over.
By now you realize that "scroll" is the second-most important navigational option on the Payroll Calculator. You use it every time you want to click the control buttons.
There are no links to a tax guide to get examples or details.
The overall model may not dawn on you right away. There are six unique screens. Not counting the three you had to wade through to get to the Payroll Calculator. Even at a minimum there are eleven selections and scrolls, plus numbers to type, such as salary. Not counting error-screens if you don't do something right. For this kind of process you may be used to feedback, like what overall process you are being led throughhow far you are into the process, and how to go back a step or two.
If you get frustrated with re-filling fields as you re-start the Payroll Calculator, you might try registering for a MyBusinessAccount. You quickly discover this requires something called an "ePass". If you continue, you find that ePass registration requires information from your tax return. They expect you to have your tax return handy. Worse yet

–

CRA actually needs a line from your personal tax return. For a MyBusinessAccount?
So you might at this point want to talk to somebody. But the "Contact Us" menu item you just saw on the left menu is no longer there. The left menu on the calculation screen doesn't include it. Don't bother looking for an email

–

anywhere

–

CRA doesn't want your emails.
No wonder CRA gets 23 million people phone calls a year. The people answering the CRA's phones never treat clients like that. CRA's call centre people are attentive, efficient, and talk about your options rather than hiding them so you can't see them. Imagine if the CRA website were designed like that! Your time is valuable – don't visit CRA's the web pages – phone them.
---
"Too many people create websites that look beautiful. But we need web teams that relentlessly focus on creating websites that WORK beautifully. It's not enough to put some content up. It's not enough to launch and leave an application or a new website design. That will most definitely NOT deliver value to your organization. It will most definitely NOT save money. In fact it has a greater chance to waste time of your customers and lose money for your organization."
Gerry McGovern 2009
---
If you have any comments on The Insighter, or ideas on usability topics you'd like to hear about, fill out our quick feedback form .
We invite you to subscribe to our monthly
e-newsletter.