We invite you to subscribe to our monthly e-newsletter:
In this issue
Upcoming events
---

World-renowned Web content and usability expert Gerry McGovern will present his acclaimed one-day Masterclass at a series of intimate venues in four Canadian cities this Spring.
Gerry is an inspiring, thought-provoking and humorous speaker who will give you practical ways to achieve your objective of providing great Web content.
"Gerry has a gift for making the complex simple, the basics fresh, and the important compellingly so. This he accomplished with irrefutable logic, a dollop of wit, and a double serving of passion. The man knows his stuff -- and will make a believer out of you."

David Shaw, Asia-Pacific Brand & Communications Manager,
HP Services, Hewlett-Packard Company
Join us for a unique opportunity to learn about Gerry's proven and powerful techniques for website management.
Find out more:
Gerry's recent Masterclasses in Canada have all quickly sold out. Seating for all events will be limited. Subscribe now to the Insighter to hear registration details as they are announced.
---
Putting Citizens First: Carewords for transformation?
Gerry McGovern, Neo Insight, and other partners in Customer Carewords have worked with government organizations in many countries over the years, evangelizing and implementing task-based approaches to managing government websites.
A few weeks ago, Gerry did a webinar for 400 US government people. He was introduced by Sheila Campbell, co-chair of the U.S. Federal Web Managers Council. She told the audience that these task management ideas had strongly influenced a white paper which the Council wrote in November 2008 for the Presidential Transition Team.
The white paper "Putting Citizens First: Transforming Online Government" (PDF 47KB) is extremely succinct. In its 3 pages, it identifies the core problems of many government websites, and makes focused recommendations. "Putting citizens first" isn't empty political rhetoric: the recommendations are exciting, but simple and specific. Here are some of the highlights, which we feel are just as applicable to government website management here in Canada.
The State of the Nation's websites
The authors recognize the challenges facing government organizations, and the impact on citizens; for example:
"…many websites tout organizational achievements, instead of
delivering basic information and services."
They note that, while a number of initiatives are improving the situation, "a high-level mandate from the new Administration is needed to quickly and radically transform government websites."
The vision
The authors put forward a vision that "…when [citizens] need government information and services online, they will be able to:
Easily find relevant, accurate, and up-to-date information;

Understand information the first time they read it;

Complete common tasks efficiently;

Get the same answer whether they use the web, phone, email, live chat, read a brochure, or visit in-person;

Provide feedback and ideas and hear what the government will do with them;

Access critical information if they have a disability or aren't proficient in English."
Specific recommendations are provided against these issues. Many of these are very applicable to the Canadian context, and we highlight just two of them below.
Help the public complete common government tasks efficiently
Under this heading, the notion of "citizen productivity" is raised, and the impact to the economy of wasting citizens' time and effort on poorly-designed websites. We discussed this very issue in our July 2008 article: Managing your users' tasks: 6 measures you need to know.
We believe it is vital that senior managers should know, measure and benchmark the top tasks of their website users. This is the key to moving from a technology-centred view to a citizen-centred view. Perhaps the most important recommendation is made in this section:
"Agencies should be required and funded to identify their core
online customer tasks, and to develop service standards and
performance benchmarks for completing those tasks."
Clean up the clutter so people can find what they need online
We smiled at this one :-) The recent move to CLF 2.0 made many Canadian government departments realise the sheer burden of maintenance and non-productive activity that large websites create. There are many root causes. For example, funding that is project-based, and which neglects to take account of 'whole life' costs including long-term maintenance, is guaranteed to generate increasing support and management demands that soon overwhelm the available resources.
Our websites are not under-resourced: we have over-burdened our good people with an increasing and overwhelming amount of low-value maintenance work. It's the websites that need to be fixed, not the people.
And what about Canadian government websites?
If you know (or manage!) a Canadian government website, these topics may have resonated with you. The other topics in the white paper apply equally well to the Canadian context.
When we brought Gerry McGovern to Ottawa to hold his Masterclass in 2007 and again in 2008, it was obvious that there was a groundswell of frustration amongst the hundreds of government attendees, and a desire to break through barriers to create websites that serve Canadian citizens better.
The attendees in 2008 provided us with around 30 "Top messages to senior managers". Their very top 3 were:
Delete outdated/irrelevant content, and implement an ongoing review strategy
Focus on what people are trying to accomplish on the website

Focus on the customer task, not the politics
Sound familiar? Our issues here in Canada are not so different from the U.S.. If you are involved in any way with government websites, we urge you to read the "Putting Citizens First" white paper, circulate it to other concerned people, get it in front of your senior managers, and start to implement some of the simple recommendations that – very quickly – will reap benefits for you, for your over-burdened team, for citizens and for the Canadian economy.
See more information on applying our Customer Carewords process in a government context and our usability benchmarking approach: Task Performance Indicators.

---
Obama's inauguration was the focus of huge media coverage and interest around the world. Somewhere between 1 million and 5 million people (the estimates vary wildly) were present to experience things first-hand in Washington, D.C. (even if not up close and personal).
The event didn't escape the notice of the high-tech industry and the online world. The U.K.'s Telegraph caught the feeling: "the inauguration of Barack Obama promises to be a social media orgy". And it was. Apart from TV, radio, video feeds, Tweets, Texts, and Blogs by the score (million?), people could watch the event on their cell-phones and iPhones, laptops and PDAs.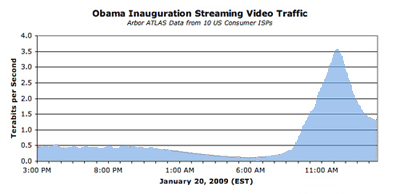 Data from 10 U.S. ISPs, as reported by Arbor Networks, suggest that the inauguration generated peak traffic of 3.5 Terabits per second on their networks, with a steep rise leading up to the inauguration speech.
Many people were at work at the time, but wanted to watch the event. With limited access to TV, this created a particular demand for streaming video. CNN said it provided more than 21.3 million video streams over a nine-hour span up to midafternoon. That blew past the 5.3 million streams provided during all of Election Day. At its peak, CNN.com fed 1.3 million live streams simultaneously.
Akamai also reported feeding up to a record-breaking 7 million video streams at one time. Figures from AdAge and Nielsen suggest that more people watched the inauguration as live streamed video on the Internet (39.7M) than watched it on TV (37.8M).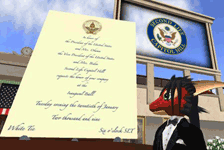 Amongst this hi-tech frenzy, there were some new ways to experience the event, experiences that didn't exist even a few years ago.
For example, one of the places you could "meet up" to share and celebrate the event was on Capitol Hill – in Second Life.

Microsoft and CNN invited people to send in their photos of the exact moment of the swearing-in. They then merged 628 of these images to create a navigable 3-D montage, using their Photosynthesis software. Of course, many people captured "the moment" not on location, but from TVs in their homes. Microsoft and CNN also montaged these photos.
To view them, you will need to download and install the Photosynthesis application and browser plug-in:

And GeoEye-1 was observing the scene from 423 miles up. Launched in September, exclusive rights to use GeoEye-1's imagery online are owned by Google.
---
Wikipedia invests in usability for 2009
Both Wikia and Wikipedia will be very focused on usability in 2009.
On December 3rd, the Wikimedia Foundation was awarded a grant of $890,000 by the Stanton Foundation to make Wikipedia's editing interface easier to use.
In a recent interview, co-founder of Wikia Angela Beesley noted that Wikia had already launched a WYSIWYG (What You See Is What You Get) editor for MediaWiki, the software that both Wikia and Wikipedia use. This aims to allow new users to start editing or creating new pages more quickly, with no need to learn complex markup. Wikia has also introduced a new look-and-feel targeted at making the site easier to navigate for new users. She said:
"wikis ...developed out of a very geeky culture...
but to reach a mainstream audience, they need to be
as easy to use as blogs and social networking sites."
Perhaps this announcement is another clue that 2009 is going to be a big year for usability - both for governments and for Open Source projects.
And if, like us, you believe that usability is one of the best careers in the world, then you may be interested in Wikipedia's recent job adverts for the Wikipedia Usability Initiative - which includes an Interaction Designer with usability experience to join them in San Francisco.
---
Quote of the month
"Organizations are flooded with content, but that content doesn't become information and information doesn't turn into knowledge unless someone knows it's there, can get to it with minimal pain, and can repurpose it by creating new information from existing content."

JoAnn T. Hackos, Content Management for Dynamic Web Delivery
---
If you have any comments on The Insighter, or ideas on usability topics you'd like to hear about, send us an email with your comments.
We invite you to subscribe to our monthly e-newsletter.