Politics and elections are hot topics - especially here in Ottawa, where the mayoral and municipal elections are creating a lot of public interest and discussion. In order to assist the candidates in the final days before voting, we provide a brief summary of four usability guidelines they might want to keep in mind.
These guidelines are derived from usability evaluations of the Ottawa mayoral candidates' web sites, 2006, carried out by a number of local usability experts, all members of the Ottawa Usability Consortium. We have also produced a summary of the mayoral candidates' web site reviews. This article may not reflect the views of all the experts!
1. Know your target audiences and support their goals
There are usually 3 audiences you should prioritize:
Committed supporters
Undecided voters
The Media
You need to reassure your committed supporters but, more importantly, engage them in action. Apart from making it easy to give donations, obtain lawn signs and volunteer, consider viral marketing techniques to allow them to easily spread the word. Let them know how they can help bring out more supporters on polling day. Give them RSS feeds and email newsletters so that they can keep in touch with changing events.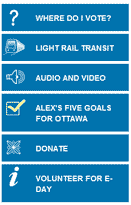 Approximately 20% of voters in Ottawa are still undecided. These people need to quickly find a summary of your background, but are more interested in your position on topics of interest to them. Ensure hot topics, especially those where you feel you have a strong position, are easily found. If your site is complex, provide an internal search engine. Make sure typical issue-oriented "trigger words" return good landing pages where the target of the search is easily found.
You might consider providing comparisons with other candidates' platforms and positions. Undecided voters want to make the comparison anyway - so why not give them those comparisons and keep them on your site? They may well value your (relative) honesty, and will appreciate the fact that you're making their life easier.
The Media will provide lots of planned coverage in the weeks leading up to election, but also many last-minute opportunities. Ensure they can easily find background material, contacts who specialize in media relations, transcripts of yesterday's speech, and a schedule of appearances.
2. Make sure voters can find you
Judging from our reviews, this is not as obvious as it sounds! Search Engine Optimization is a major consideration. Having an unusual name helps here, as this is what users are likely to type into a search engine. They may also type election-related words and some term for the location - e.g. "Ottawa". Try it yourself, but also do some user research: start with your volunteers to see what terms people use to find you. Look at the results. Work out how to get the right hits to rank you at the top of the list by getting the right "trigger words"into page titles and frequently into the text. Get your supporters to link to your pages from as many sources as possible.

Ensure you are well-represented in local directories, including those that extend beyond your immediate Ward. Again, ensure the "trigger words" that people use are present in your entry. The incumbent will often have an advantage in having a presence in an existing municipal (or whatever level of government) site, where voters may look first. You might lobby for representation - at least links to your web site - but this will usually only happen if all other candidates are also represented, so it offers no great advantage.
3. Make a good first impression
Your committed supporters need to know they've made the right choice. Undecided voters can make decisions based on how you look (just how awful is that photograph?), the imagery, colours and layout of the site, its ease of use, the tone of voice of the text, the issues you choose to talk about, and a myriad of other details. The details matter! Make sure your team includes communications and graphic designers who understand what your site says beyond the words.
Every page is a "first impression" page. Increasing numbers of users arrive from search engines. Not only must all the right communications and branding elements be in place, but users must be able to orient themselves quickly, to know where they are in relation to the rest of the site, and to know where to go to track down other relevant information. Candidates' web sites tend to change frequently, so you need to ensure right from the start that your site's architecture and navigation can scale up as more material is added, and that users who "parachute in" to the middle of your expanded site from a search engine will not be totally confused.
4. Design for accessibility
One in seven Canadians aged 15 and over report some form of disability, with rates increasing rapidly with the age of the respondent [Footnote 1].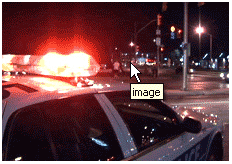 The basic principles for accessible design are simple to apply. One of the simplest, yet so often ignored, is that images must have text descriptions ("alt text") so that people with visual impairments will not be wondering what they're missing (roll the cursor over the image to the left to see the alt text pop up).
Designers often seem to want absolute control over layout, and use fixed font sizes. But for accessibility's sake, they must hand that control over to the users. Specify fonts in relative sizes, not fixed sizes. Visually-impaired users (including people who just don't want to have to go and get their glasses right now) often need to bump up the font size.
Political candidates' sites seem to have more than their fair share of audio recordings and videos. Do provide captions and transcripts for audio and descriptions of the visual content of videos. This will not only provide assistance for people with accessibility challenges, but also material that the Media can simply cut and paste into their articles. And many visitors would prefer to be able to scan text for interesting "trigger words" than listen to audio or video content where they have no control over their time and no way to scan the content. Designing for accessibility can often benefit multiple user groups - and your site's success - as this example illustrates..
Candidates' sites - Ottawa mayoral election, 2006:
[1] Statistics Canada Participation and Activity Limitation survey: A profile of disability in Canada (2001).(Return to text)
---
Canadian Federal Government usability group

There has been a growing grass-roots recognition of the importance of usability in Canadian government as well as in industry. Understanding of the strategic role of user-centred processes and techniques in business transformation is improving as government services and infrastructure become more sophisticated.
If you are a Federal Government employee interested in usability, you might want to join the Yahoo! group "GovCanHCI".
This group is open only to Canadian Federal Government employees. It is described as "...a "Human Factors Portal" where Federal Government Employees can exchange and share information on Human-Computer Interaction interests, research, endeavours and issues. This group is primarily intended for- but not confined to- Usability Experts (i.e., Researchers, User Interface Designers, Interaction Designers, Information Architects, etc). Our end goal is to create an inter-departmental group to meet and share information both on usability and human factors issues, and on the role of human factors experts within the Federal Government."
They say: **Please note that this is a PRIVATE group, which is not officially endorsed by the Government of Canada." :-)