Neo Insight's e-newsletter on Usability topics and techniques.
We invite you to subscribe to our monthly e-newsletter.
Upcoming workshops
Upcoming events
| | |
| --- | --- |
| March 23, 2006 | CapCHI talk "Elephant in the Living Room", by Kevin Grignon, IBM Canada, about the culture of user experience design and organizational needs. |
| April 22-27, 2006 | CHI 2006, Montreal Quebec - Annual conference of the Special Interest Group on Computer-Human Interaction |
---
Web 2.0 has made the big time - Google offers twenty one million pages about it, Yahoo has a new interface for it, CIO magazine is talking about it, and O'Reilly has a "Web 2.0 conference" for it. Wikipedia describes Web 2.0 as referring to the "second phase of architecture and application development for the World Wide Web". But how do we make it usable?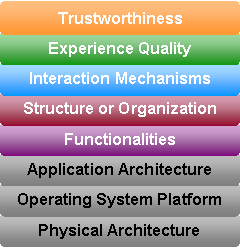 Here is one model that seems to help people - a layered view of the user interface. Lots of our clients work on the software underneath the user interface. But more and more code is in the user interface. We find that breaking the user interface into multiple layers helps us discriminate what is otherwise a tangle of design issues between the underlying functions provided by the application, the way information is presented to the user, and the mechanisms in place which permit the user to interact with the application. We describe these layers (working upward) as: functionalities, structure or organization, interaction mechanisms, experience quality, and trustworthiness.
These layers help us focus precisely on what users value and areas that could be improved. The layered view also makes way for ideas and insights that may cross layers. For instance, a hyperlink is an "interaction mechanism", but it can be presented many ways. Providing a better sense of where a hyperlink will lead helps users stay focused on a task and gives them more confidence to explore—an improved "experience quality".

Designing hyperlinks in the context of Web 2.0 means that we can entertain more options for augmenting the information provided about a link before the user clicks on it, or even create hyperlinks on-the-fly. Zimbra applies Web 2.0 techniques to dynamically associate database information with certain patterns it recognizes in emails or other information systems. For example, it may recognize purchase order numbers in the context of an email and provide additional information (extracted from the database in real-time) when the user rolls their mouse over each number in the email (see sample screen shot). It can also be used to link phone numbers to address book information, dates to calendar entries, parcel tracking numbers with status information, etc.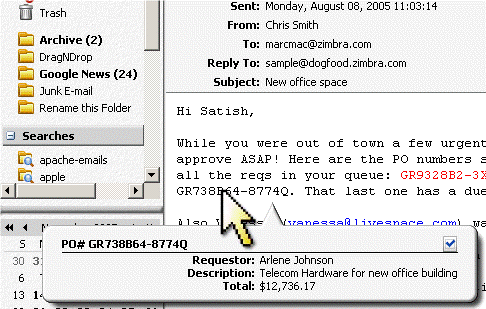 Browster's instant view is another example of linking "interaction mechanisms" (rolling a mouse over images on the screen) with an underlying "functionality" layer (seeing a preview of the page with active links). This permits rapid viewing of search page results without having to click blindly on each result and then click the Back button to explore other results. This saves time and improves the "experience quality" layer discussed earlier.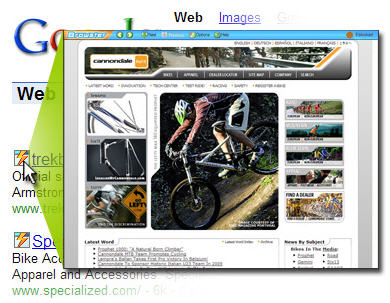 These new functionalities are made possible by application programming interfaces (APIs) provided by vendors such as Google, Yahoo, and others. You may have seen some examples of overlaying real estate properties on Google maps, or using the maps to link to local restaurants, banks, etc.
Web 2.0 provides the opportunity to enrich the user experience. The challenge is trying to understand how these new capabilities can best be deployed. Our workshop on Usability challenges of new Web technologies examines these new trends, opportunities, and potential pit-falls in more depth.
---
Save 25% on purchases of 6 or more copies of Morae until March 31
We regularly use Morae in our usability testing. We find it the most cost-effective tool on the market for rapid, portable, digital testing. The Morae Recorder module records video, audio, keyboard input, mouse activity, screen text, etc. and synchronizes these data with the video recording for subsequent analysis.
The Morae Remote Viewer module lets stakeholders watch usability testing in real-time, no matter where they are. After testing, Morae Manager facilitates analysis of all user activities and supports creation of highlight videos – useful for letting everyone on the design and development team see and understand the usability issues.
For more information, watch this recent screencast on Morae fundamentals by the TechSmith product manager, or see the TechSmith web site for additional details on Morae.
We recommend you get familiar with Morae—it is a cost effective way to include user testing as part of your design cycle. If you are interested in seeing a demo of Morae in action or purchasing Morae, please give us a call at (613) 271-3001 or email us at: info@neoinsight.com.
---
User experience trends in e-commerce
E-commerce is becoming pervasive. Over the past four years, e-commerce retail sales have increased an average of 29% annually (US Bureau of Census, in Centre for innovative Entrepreneurship's Weekly Economic Insight, May 23, 2005).There is also growth in the number of business-to-business transactions, driven by the lower cost of conducting business on the Web. AMR Research says that "procuring direct materials via phone, fax or e-mail costs $US160-200 per transaction", whereas orders on the web cost around "$US40 per transaction".
Usability can improve the performance of e-commerce. Usability improvements increased conversion rate by 100% in a study of 863 projects by the Nielsen-Norman group; and in a "study of major e-commerce web sites", Creative Good found that "39% of shopping attempts failed due to poor navigation."
E-commerce doesn't need to be restricted to one part of a site—it can happen wherever users need it. Amazon's Web Services, with their open approach and published Application Programming Interfaces (APIs), are part of a trend to distribute the functions of e-commerce. As such, it is becoming less important where a shopping cart resides, or where a transaction is fulfilled. Barriers to entry are lowering, and flexibility is increasing, so retailers are not restricted to one e-commerce service provider. For example, a retailer might have a Yahoo Store, an eBay ProStore, bring traffic from Froogle, call reviews using Amazon's API, and call Google's API for search.
Some shoppers may make several visits, over a period of time, before deciding to buy (see Jakob Nielsen: "The Slow Tail"). The most successful sites therefore support long-term shopping needs by providing gift registries, wish lists, "send to a friend", recently-viewed items, persistent shopping carts, etc. Customers leave the shopping process for many reasons—to create an account, explore shipping options, log in, review other sites' offerings, get authorization, discuss with family and friends, etc—so e-commerce sites that let users return to the last place they were shopping have a distinct advantage.
In addition, people often shop for someone else—other family members or friends, for example—so good e-commerce sites store more than one ship-to address, and pre-fill it when the user purchases goods for that person again.
Another e-commerce trend challenging traditional retail practice is known as the "long tail." In Chris Anderson's Wired article, he says "What percentage of the top titles in an online media store will sell once a month?" Traditional wisdom in retailing says that 20% of goods generate 80% of the revenue. However, in online retailing, "the right answer is 99 percent. There is demand for nearly every one of those top titles." Anderson adds: "We're stuck in a hit-driven mindset. But the 'misses' make money, too. And there are so many more of them, that [the revenue] can add up quickly."
And finally, let's look at how Craigslist is redefining online business models. It's basically a simple and (mostly) free online classified-ad service running in 190 cities, but the New York Magazine (article "A Guy Named Craig") says it is "destroying classified revenues for big-city newspapers." They suggest that what may be the most revolutionary aspect of Craig's list is that "It took what had long been defined as a profitable industry—classifieds—and demonstrated that it is not much of a business at all, but is rather what open-source advocates call 'a commons,' a public service where people can find one another with minimal intervention from their minders."
Even so, they point out that the revenues from the tiny portion of ads Craigslist charges for are so considerable (estimated at around $US20M per year) "that Microsoft and Google and eBay have all come up with competitive offerings, or have announced plans to do so."

---
Quote of the month
"The problem facing usability is how to scale up so we can impact all the user interface designs in the world. How big is this challenge? As of November 2005, there are about 75 million websites ... also 30 million intranets inside firewalls. Thus, there are more than 100 million user interface designs" - Jakob Nielsen.
But the challenge may not be in design conventions but in relationship. "A web site is an implicit contract between two and only two parties - designer and user... Enforcing usability rules will never get past the 'thought experiment' stage" - Clay Shirky - An open letter to Jakob Nielsen
---
If you have any comments on The Insighter, or ideas on usability topics you'd like to hear about, send us an email with your comments.
We invite everyone to subscribe to the Insighter, our monthly e-newsletter.
If you wish to unsubscribe, just send us an unsubscribe email.