Neo Insight's e-newsletter on Usability topics and techniques.
We invite you to subscribe to our monthly e-newsletter.
World Usability Day spans 70 cities in 30 countries
We were proud to help organize and sponsor some of the events in Ottawa. World Usability Day (WUD) was held November 3, 2005 for anyone who's ever asked questions like "Why can't I get this thing to work?" or "Why can't I find what I'm looking for on this web site?" The theme for the day was "Making It Easy".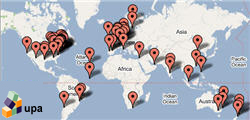 The Usability Professionals' Association organized the event and sponsored 36 hours of rotating local activities around the globe. Many people contributed stories of everyday usability, providing practical illustrations of the application of usability.
In Ottawa, a usability trade show was held at Carleton University. This venue also served as the launch for the Ottawa Usability Consortium (see story below), announcement of the Usability Boot Camp, attended by 79 people on November 22, and the eGov Showcase, attended by a similar number of people on December 8.
We demonstrated some of our usability testing methods, providing examples from our Morae digital test lab software. We also created an audio/visual show entitled "A Day in the Life of Usability" (7.6MB download) which depicts how technology and usability pervade our lives.

Designing for usability can save time and money, in ways that can be measured. For example, a usability evaluation of Bell Canada's telephone bills resulted in a new design that reduced pages by 40% and the search time for finding information on the bill by 30%. A usability redesign of one of McAfee's anti-virus software products was able to cut their support calls by 90% (download pdf article 350KB).
The Web Accessibility Initiative (WAI) of the World Wide Web Consortium (W3C) offered some sample personas to help developers see users as "real people" and gain a better understanding of the ways in which these different users may use the web.
Other events of interest from World Usability Day include:
· At the Bremen, Germany WUD event, Ben Schneiderman spoke on improving lives, and on his book Leonardo's Laptop. Ben encouraged designers to accelerate a transformation toward "universal usability", to enable participation across a broad range of users, and to "envision a future in which human needs more directly shape technology evolution".
· Edinburgh hosted an evening of presentations by usability organizations, like "dirty prototyping", and how simulations can improve usability before implementation when a design change can cost thirty times as much.
· A 24 hour web cast on Accessibility was part of the WUD event, and presentations are still available. Accessibility topics included testing, tools and methods, policy, research, organizational culture, and specific cases such as voice, telephony, podcasting, Web Services, and JavaScript.]
· St. Louis provided an example showing that "usability is too big of an issue to ignore" based on "a shipping firm that lost customers when its Web site proved too complicated, didn't provide basic information on its home page, and offered no way for clients to track shipments."
· Two out of three people "have problems trying to figure out how to use new technology", reported USA TODAY NOW.
Learn about the next wave in Web usability
Technological advances – such as Web Services, XML, mobile devices, and AJAX – are rapidly changing the way people interact with information. If you design or build end-user services with these technologies, you'll need to hear about the latest usability techniques. Neo Insight's new course, Usability challenges of new Web technologies takes place on January 19. On this highly interactive course, you will learn:
- How to separate and understand enduring human needs versus changing human expectations and behaviour, and how to use this to guide your design and development
- How fundamental user-centred principles such as providing affordance at the point of need can help generate innovation and maintain a focus on your clients' priorities
- How quick and simple techniques, such as "Stress tests" and "Cognitive walkthroughs," can provide rapid and inexpensive feedback on user issues.
- How to apply usage-centred design techniques to manage technological advances that impact user behaviour
Join Up! The Ottawa Usability Consortium

Neo Insight is a founding member of the Ottawa Usability Consortium, a new professional organization aimed at "increasing and supporting awareness and practice of usability." We are proud to support this organization during its formative phase. The consortium is actively signing up organizations and individuals at OttawaUsability.org.
Learning more about usability helps you to better understand your customers, the business value associated with having a usable product or service, and the importance of having the right information architecture. The Consortium has been formed to provide usability-related resources in the Ottawa area and to offer assistance in linking government and businesses with usability professionals.
Quote of the month
"Apple understood that the iPod was about the entire experience ... the ease of getting the user back and forth." Donald A. Norman
We invite everyone to subscribe to the Insighter, our monthly e-newsletter.
If you wish to unsubscribe, just send us an unsubscribe email.