In this issue
We had a thrill this month! One of our usability testing clients took the top prize in the Excellence in Public Service Deliverycategory at the GTEC Government Technology Awards. BizPaL is a front-end "web discovery system" to help business owners and entrepreneurs find and evaluate all required permits and licenses. Descriptions and links to the items are provided by federal, provincial and municipal government partners. When the user selects a link (e.g. to an online permit application form), they transition from BizPal to the partner site to complete their task. In a subsequent project, we conducted similar iterative design concept and usability tests for a discovery system to help a particular group of people find government programs and services.
In this article, we'll describe some of the barriers the testing revealed in the transition from the discovery system to the partner sites. Sharing the barriers and associated solutions with the discovery system stakeholders created a domino effect of positive usability expectations. It became apparent that usability improvements would cascade from the discovery systems into partner sites.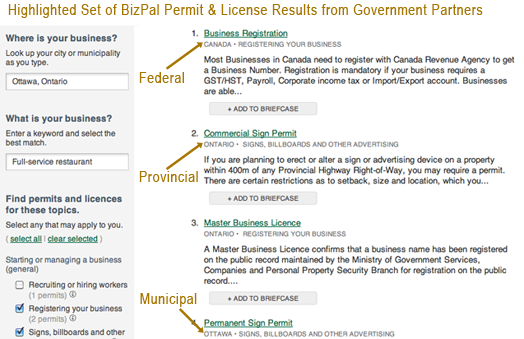 For both discovery system projects, we worked with business transformation company Systemscope, government employees and other consultants to form a multi-disciplinary team. Each team worked synergistically to quickly build and test working prototypes using a user-centred design process. Other team members have some great stories to tell about about this terrific process, and about BizPal itself, in links at the end of the article.
User tasks don't end with the discovery
As with any usability testing study, the starting point for both projects was identification of the top tasks. Both teams had extensive data to help us determine the top tasks those permits and licenses or services most frequently sought by users.
Once we had had created a representative set of clear and comprehensive tasks, we had to decide:
Should we stop when they choose a target link and thus have time to test more top discovery tasks?
Or, should we test the whole task, from start to completion of the task on the discovered site?
We made this decision independently for each round of testing in each project. For one project, there were severe time constraints in the test sessions, and we had many questions about the discovery process itself, so we stopped after the initial discovery. In the other project, by the second round of testing, we decided to measure a few tasks to completion on the discovered site. Some tasks were selected because of hypothesized barriers to task success within the partner's site.
Don't let a positive experience end in a task failure
The usability domino effect starts with a clean, fast, effective discovery system. With BizPal, a set of targeted permits and licenses is displayed within 3 short steps. All of the fields auto-complete as the user types, and the page expands seamlessly as more details and steps become available. The user can click to save best-bet license or permit options into a briefcase (both systems use a briefcase model, easily seen by users as equivalent to a shopping cart).
When the discovery system supported the user's tasks quickly and easily, it created an expectation that their experience would continue in the same manner once they reached the discovered site. "Speed is everything" said one entrepreneur as he selected from the set of permits and licenses. In a few cases for the complete task testing, the transition as the user clicked the link and left the discovery system did keep the task at speed. In many cases, that speed dropped to dead-slow as they hit the barriers described below.
Barrier 1: find the discovery target …. again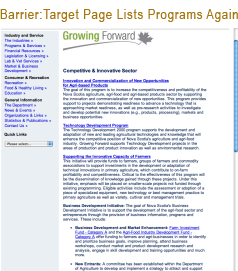 Sometimes peoples' work would be discarded. They would narrow their options and find a specific program in the discovery system but when they clicked the link it did not lead to the program details. Instead, they were taken to a page on the discovered site which presented them with the same long list of programs. They had to start over, re-finding the program of interest. When they saw this page, usability participants displayed a variety of reactions:
Usability domino effect: The results of the testing were shared with the government agency responsible for the particular page. As a result of our testing, pages for each program have been created and linked directly to the discovery targets. Partner agencies will be trained to apply the following design principle.
Design Principle:
The landing page on the 'discovered' site must be the most appropriate and specific destination page, to ensure the user's task moves forward through the transition, without any repeat selections or steps.
Barrier 2: Find the next step in mystery links
For another usability task, the brief program description on the discovery system had some of the tasks' key words in the description. When participants clicked the target link, the resulting page had the same description, plus three links to take them to the next step. Unfortunately, success rates were low for this task, because people could not determine which of the three links was the right one for their task.
Most participants gave up quickly, after trying one of the links and looking unsuccessfully through some of the pages.Typical of today's impatient web users, they simply weren't willing to keep looking for the elusive program.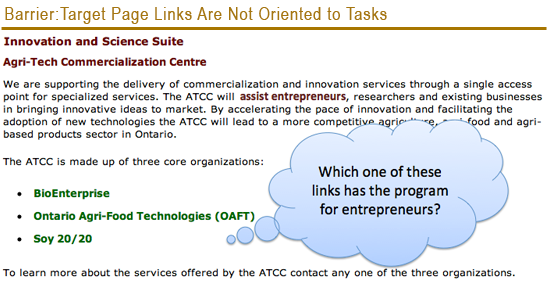 Usability Domino Effect – The team had two alternatives that could both deliver to the design principle. The first would be to add the sub-programs to the directory system to provide users with unique direct links. An alternative solution would require the addition of task-oriented sub-links below each of the three main links on this discovered page.
Design principle: The linked page must provide clearly delineated next steps of user tasks, without assuming prior knowledge on the part of the user.
Barrier 3: Wading through welcomes
Hitting a welcome or broad category introduction page slowed usability participants down during our tests. The link to continue the task was often the only link on the page and yet the page content and layout seemed to imply "you'll want to read all this information about us before you continue". Needless to say, usability participants usually huffed, read none of it, and clicked the link immediately.
Usability Domino Effect: Video clips of usability participants skipping past the unnecessary steps have encouraged partners to remove self-promoting text and orient links and pages to user tasks.
Design principle: Streamline the user's task by removing unnecessary steps in the process. Provide deep links that transition directly to the next step in the task.
Discovery Systems – Spreading usability throughout the web!
Discovery systems like BizPal are a welcome addition to government services. They serve citizens quickly and efficiently. By sharing usability testing results and task-focused design principles with partners, discovery system teams can further improve success rates for the entire task process, from discovery to completion. As those partners see the benefits of an end-to-end task process in reduced help calls and improved service rates, usability improvements will spread throughout the partner sites.
Of course, these design principles don't just apply to discovery systems. It's always important to consider the task end-to-end, and sometimes even beyond the website to other channels (consider that 47% of consumers have checked product reviews [6] from a mobile device while in a store). Delivering task-based service often means several parts of an organization or layers of government may have to work together, across silos, to ensure successful task completion.
Talk to us about how to implement and manage end-to-end task success, on your sites or on discovery systems. Together with our partners, we can provide rapid prototyping and iterative usability testing to get your system up quickly. If you are in the Canadian government, this approach can help your government department prepare for the upcoming usability standards.
If you have questions, comments or would like to know how this approach could help your organization, call Neo Insight (Lisa Fast at 613-686-6672) or see our World Usability Day free offer [4] below.
Learn more about BizPal
Articles by the Systemscope Discovery Systems Team:
---
Register now [14]
Socitm [15] Insight's 'top tasks' event on 15 September was one of the highest-rated that Gerry McGovern has ever run. In this webinar, Gerry will provide a 'replay' of his talk about how Socitm, a U.K. society for government IT professional, is recommending that municipalities (or councils in the U.K.) save citizen's time and effort with a top task approach.
Back to Top [16]
---
Test your top task success – only 46% complete their task successfully when their first click is wrong. (see Performance-Based Usability Testing [17])
World Usability Day 2011 is on November 10th. To promote usability, Neo Insight is offering customized tests of your site with non-moderated first-click testing. The process and results will get you comfortable with new methods, and give your team a head start to do more testing.
This offer ends soon – only 5 sites will be selected. We will choose from amongst the people who indicate their interest. All we need right now is your email address:

Back to Top [16]
---
Quote of the month
"BizPaL is a concrete example of an initiative designed to cut through the red tape that small business owners encounter."

The Honourable Maxime Bernier, News Release [8], October 19th, 2011
[4] Celebrate World Usability Day with a free First Click Test – Only 5 tests available: #wud2011
[10] Systemscope GTEC Workshop with Stephen Karam, Industry Canada's Dan Batista and Agriculture and Agri-Food Canada's Jennifer Conlin : http://bit.ly/qj74Ov
[11] Systemscope Partner Stephen Karam: Using Agile Prototyping to Increase Client Satisfaction and Internal Efficiencies: http://www.systemscope.com/blog/make-your-boss-love-you/
[12] Information Architect Jane Stewart: Opening Eyes and Minds with Usability Testing: http://bit.ly/aboutness