In this issue
---
Over 30 billion web searches were conducted this summer, according to data collected by Comstor. Most of them took place on Google – averaging out to about 2 hours per month per person. So odds are, when people visit your website, they're bringing expectations and behaviours with them that are influenced by their experience with Google. In this article, we'll explore some top search-related expectations that have implications for your site and search operations.
Based on the hundreds of hours of usability tests we conduct each year we've seen a trend in search expectations. More and more people expect search to work like Google. Taking these expectations into account in the design of your site or search engine selection will increase the likelihood that your visitors can complete their top tasks.
Expectation 1. If the field is labelled Keyword or Search, it will work just like Google.
This often occurs on advanced search pages, where there are a number of very narrowly-defined fields, often with drop-down options. Among those fields though, is one called "Keywords", or in another example, "Full-text Search". People treat these fields as if they were Google search fields, often typing in a full phrase, which usually results in zero search results. They seem to believe that more words = more results, when the reverse is true in these situations. It's very rare to see people remove words from the keyword field to resolve the "No results found" outcome.
Recommendation: Don't use broad labels like 'Keyword' or 'Search' if the field will only perform a scoped search within specific parameters. Instead, label the field very precisely, so that the user is clear about the scope.
In the example below, the participant entered 'date of birth' in the Keyword field because she wanted to see the date of birth and other data in an historical document. Like many others, she failed to notice the small instructions below the label. After repeated failures, she ultimately gave up on the search form.

Expectation 2. All search fields will correct my spelling, like Google does.
When people use site search, they often expect it to correct their spelling, like Google does. In addition, they expect the results to include common synonyms and plural versions of their search terms, if there are few direct matches. People are also starting to expect that sites provide type-ahead, like their browser search toolbars. They understand that type-ahead helps avoid spelling errors.
When searching and browsing don't succeed, web visitors often try another more expensive channel, like a telephone call. In an example just last week, a usability participant searching a store site said that although he had typed in "mobility", he fully expected the search to show results for "mobile", and "portable". He added that" if it makes distinctions as subtle as mobility versus mobile, then I won't try every variation, I'll give up and just call them".
Recommendation: Ensure that your site search engine supports these features. Even better, look for search engines that provide the capabilities we discussed in Top 4 Trends in Search Usability.
Expectation 3. The search results will appear very quickly, and will look and act like Google results too.
People use Google for hours per month. The interface is very familiar to them. They expect the search term to be echoed at the top of the page so they can refine their search, and the listings to each consist of a linked title, a brief description and the full URL. On average, they select an item from the search results page within 15 seconds. When the results are in a different format, it stops people in their tracks while they work out how to interpret the new presentation of results.
The Google experience has led people to expect search results FAST! A study conducted by Google in 2009 found that delays as short as 400 milliseconds caused a significant reduction in the number of subsequent searches people made. We've seen examples of this effect, when users give up on site search if they perceive it as too slow. Google Instant is another way Google hopes to speed up the search process, by offering search results in real-time as users type. Marissa Mayer of Google expects it to save 350 million hours of user time per year (that would be equivalent to 182,000 person-years).
Recommendation: Groom your search results to use the familiar Google conventions if at all possible, and work hard to make the results appear as quickly as possible. On the search results page, echo the search field, so they can refine their search. Make sure page titles are meaningful when they appear as links in the results.
Expectation 4. If I can't complete my task easily quickly on the site, I'll use Google instead.
We ask usability test participants to let us know if they ever reach the point where they would normally "give up and call someone or try something else". While people often do give up and say they would call someone, we're seeing more people say "At this point, I would just give up and use Google". They don't mean that they'll use the site specific search option on Google (incorporating site: <site URL> into their search query) – very few know how to do that. Instead, they leave the site we're testing, enter the search terms into Google and sometimes add the name of the organization (e.g. Cisco home office router). The problem is that those search results may lead to another site than yours, or your page may not be optimized for people who arrive from search or who want to use the specific information Google just provided them.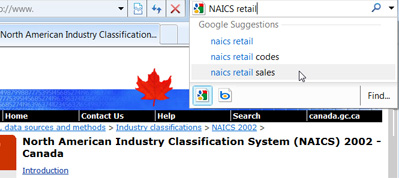 In this example, a participant was trying to find the particular code required for a government application. While the site provided a menu wizard approach to find the code, eventually, the participant gave up, went to Google, and found the code within 20 seconds. Unfortunately, when he returned, he wasn't able to paste the Googled code into the wizard because no text field was provided.
Recommendation: Make sure your site can accommodate alternative solutions to your particular search mechanism (like the text field needed in the example above). For extensive or deeply-layered sites, improving your navigation for top tasks should be a priority, but also make sure the page contents are available to search engines, so that people can use Google to arrive directly at the desired content.
If you are interested in usability testing or need help implementing these recommendations in your particular environment, call us at 613-271-3001 or email us.
Related articles
---
Quote of the month
"In June 2010, the average amount of time spent per person on Google was two hours and 14 seconds per month."
Nielsen Top Online Sites and Brands in the U.S.
---