Neo Insight's e-newsletter
on Usability topics and techniques.
We invite you to
subscribe
to our monthly e-newsletter
.
Our
next workshops
Upcoming
events
April 13, 2007

CapCHI one day workshop: "Web 2.0″ The Human Web" with Peter Merholz of Adaptive Path, Maggie Fox, Derek Featherstone, and our own Mike Atyeo.

April 28 – May 3, 2007
CHI2007 "Reach Beyond", San Jose, California.
July 18-20, 2007
Pittsburgh, PA
2007 Symposium On Usable Privacy and Security (SOUPS), including a Neo Insight Usability Evaluation workshop.
---
In this issue
---
Allocate budget to the "customer experience " before it costs you
A customer experience involves communications, so people sometimes budget for it in their communications spending. When budgets are tight it may seem difficult to decide between spending money on marketing communications versus spending it on improving the customer experience of your website or service. However, if the customer experience is lacking you may not want to increase traffic to your website until the customer experience and usability of your website have been adequately addressed. Otherwise it would be like a new store opening before it had stock organized and well-displayed, or before staff was trained to handle customers. You may drive people away. In fact, in the online world it can be even worse because it is so much easier to "click on over to the competition".
If a person visits your website, but the customer experience is lacking, you risk not only lost sales from that visit, you risk losing them forever to your competition. Worst yet, you risk him or her telling others of their negative experience.
By fixing major obstacles to the customer experience first, any subsequent money spent in driving traffic to the site will result in a better payback
The impact of raditional marketing often diminishes rapidly after the campaign is over and can be expensive. Moreover, these campaigns typically can only focus on a subset of products or services at a time. On the other hand, focusing on the customer experience typically affects the entire range of offerings, is more enduring, creates goodwill, promotes "word-of-mouth" advertising, builds brand recognition, and results in increased customer satisfaction and loyalty.
It is more productive to increase the "conversion rate" of your existing visitors than to drive new traffic to your site. It is faster payback than spending money to temporarily increase visits to a website only to disappoint some of the visitors and risk the negative "fall-out". Companies that invest in the customer experience thrive because much of their marketing is done for free by their customers. Users that have a great experience share that experience with others .
Amazon is just one example of a company that is continually evolving their website to better address user needs and requests, innovating in involving their community of customers to add value to their website through customer ratings, peer recommendations, and family wish lists.
Crutchfield has continued their lead in the consumer electronics business by creating an outstanding customer experience. The website provides extensive reviews of their products, as well as online tools, to aid the decision-making process. They also offer free lifetime tech support and de-risk purchases decisions with a 30-day return policy. Their focus on personal attention is reinforced by liberal use of images showing friendly, competent people throughout their website.

Ease of use and attention to user needs are key to business effectiveness, business efficiency, and business longevity. But, what about for government and non-commercial websites? The same holds true. Why release communications to the public before the site is ready for "prime time"?
Customer experience and usability pays off for government and non-profits also
Jakob Nielsen recently wrote an article entitled: "Do Government agencies and non-profits get ROI from usability?" where he explored how many of the design principles which provide return on investment for commercial websites can also be applied to government and non-profit organizations. He provides one example where fixing a basic usability problem could reap a massive return on investment for a state agency, and pay back the usability investment within days.
Especially when a website collects money (fees, license renewals, certification documents, donations, etc.), or provides services to employees (intranet), it can directly benefit from customer experience improvements. To be successful, self-service applications must present a professional image, establish trust and credibility, and ensure people can accomplish their tasks effectively and efficiently. Not doing so defeats the value of self-service (e.g reducing phone calls or personal visits), which in turn places higher demands on limited resources and high-cost infrastructure. In the case of donations, important contributions can be lost if people don't feel the organization is trustworthy and efficiently managed, or if they can't find or get frustrated with the donation process.
Even websites which only exist to disseminate information can benefit from an improved customer experience. After all, this information is only valuable if people can find it, understand it, and if it has the desired impact on peoples' behaviour.
For intranets, the case for improved customer experience and usability is clear. There is a huge potential for productivity improvements. Easy access to the tools and information helps employees do their job and make better decisions. Because of the scale of operations in large organizations or government departments, small changes can translate into significant savings. Even if you run a volunteer organization, improved usability can serve to attract and retain good volunteers.
"The average mid-sized company could gain $5 million per year in employee productivity by improving its intranet design…[return on investment of 1000% or more" – Jakob Nielsen's Alertbox, November, 2002
In today's competitive market, the customer experience is often the key differentiator – it saves people money, and spares users aggravation and confusion. It allows people to concentrate on their goals rather than constantly having to wrestle with an interface that is inconsistent with their expectations. A good user interface allows people to elegantly move through the stages of a relationship (as illustrated below). Ideally, a positive customer experience leads to repeat interactions and transactions – a good relationship.

Small things can create roadblocks and deter people from continuing, especially when alternatives are just a "click away". Typical roadblocks include things like:
inaccurate inventories
lack of pricing totals before providing payment information
requiring registration or login before being able to get pricing information
lack of support for multiple transactions in one session
inability to suspend an operation and carry on later
It also extends to email support, help lines, and other customer touch points.
The total customer experience includes everything the user sees, hears or touches
Bottom line: Spending money on the customer experience is always well-spent and the impact is long-lasting. The process involves striking the optimum balance between market, business, user and technology requirements.

We'd love to hear your comments!.
---
You only have 4 seconds to get them that web page
Consumer behaviour is changing on the web, as a function of more people having access to broadband connections and improved reliability of service.
Our research from 1998 indicated user attention started to wander after only 8 seconds. Jakob Nielsen, amongst others, used to recommend designing web pages so they would download in less than 10 seconds. Now, recent research by Akamai and JupiterResearch indicates that:
"four seconds is the maximum length of time an average online shopper will wait for a web page to load before potentially abandoning a retail site."
Poor site performance is becoming a major source of customer dissatisfaction, almost as much as that due to high prices for products and shipping. The immediate consequences are lost sales, but more importantly in the long run, a negative perception of the company and word-of-mouth dissemination of all the gory details surrounding the negative experience. The report found 33% of people with a negative experience abandoned the site completely and 75% reported that they were not likely to shop on the site again.
People are demanding and expecting more responsiveness, easier product comparisons, and streamlined registration, login, and checkout procedures. Although this research focuses on retail web sites, we are seeing much higher expectations for responsiveness and ease of navigation across the board – what we call "instant usability" – especially for targeted tasks where people want to get in, get the information or make a transaction, and get out.
Web 2.0 technologies can help with responsiveness by anticipating user needs and caching information that users are likely to want before they ask for it. For example, rolling your mouse over products of interest and getting more detail to make a comparison, loading map areas surrounding the current viewport so the user can rapidly pan to an adjacent area and not have to wait for the map to refresh, or real-time narrowing of options by adjusting sliders representing different criteria like cost, size, colour, etc. However, all of this requires a keen sense for what people are wanting to do and what they are expecting.
Testing user behaviour is key to identifying and understanding areas for improvement and innovation. Recently, we've been doing a lot of remote testing. This allows us to cost-effectively "peer" into people's home or work environments and record user interactions in their natural environment, on their computer, using their browser, etc. This had provided many insightful findings, some quite surprising. If you'd like to get first hand experience with remote usability testing, give us a call. We'd be happy to show you how it works.
---
Exploring the future of search with SearchMash
Google is once again experimenting with the search user interface. When you get a moment, head over to www.searchmash.com and see what you think of this new experience. SearchMash makes use of Web 2.0 technologies to allow you to explore web pages, images, videos, blogs, and Wikipedia entries related to your search term(s).
One notable element missing is the Search button. Maybe they are thinking everyone knows how search works. In any event, it can save you considerable time. Want to try a different search? No need to scroll to the top or bottom, just start typing and press Enter. Keyboard input always goes into the search box and the search box is always visible at the top of the screen.
Other interesting elements in SearchMash include being able to:
click on the "green" links and restrict the search to just that domain or sub-domain
play back videos and look at images without leaving the search environment
press the Space bar to display more web results (the default number is 20)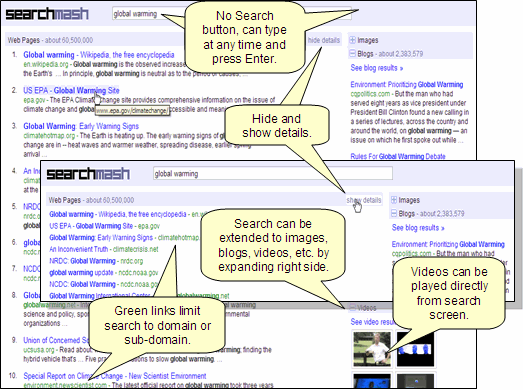 One thing you may not like. You lose your place in the results very quickly if you click on a link and then come back to the search screen. Not only has it scrolled back to the top, but any additional results you had displayed are now hidden again. If you open the search result links in a new tab, everything is fine. Hmmm, is Google suggesting we upgrade our browsers and browsing strategies? Check it out!
We are constantly updating our recommendations about designing for Search. See our article about Managing for Search Success, or contact us if you would like advice on how to improve your customers' experience of arriving from a search engine
---
PodZinger opens the door to video and audio content
Have you ever heard something interesting in a podcast or video and then tried to find that gem again? Not always an easy thing to do, is it?
Video and audio are growing rapidly on our clients' websites, yet it is difficult for their users to get at the content from a search engine. Well things are somewhat easier now thanks to help from BBN Technologies. They have partnered with PodZinger to leverage their voice-to-text expertise and let you search for those elusive words or phrases within audio or video content.
Although this technology is still not perfect, this promises to significantly alter the customer experience by giving people direct access to content which was previously locked away within long audio or video recordings. This makes it much easier for people to find non-text content, whether they be marketing videos, industry podcasts, training animations, Flash simulations, etc.
When you enter a search term or phrase, PodZinger returns results from a number of common sources for podcast and video content, including YouTube. The results are ordered by relevance or date. They show the source information and highlight the search terms in the context in which they were said. The time stamps associated with when the words were uttered are shown and clicking on any word indexes directly to that part of the recording and it starts playing.
What more could you ask? How about being able to embed a PodZinger search box into your website or embed results you find using PodZinger into your website? They are currently providing both of these options.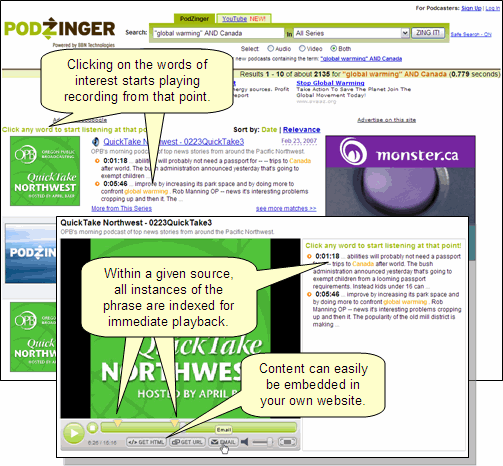 With the proliferation of multimedia content, this technology and user interface promises to open many new doors.

Let us know what you think of the Podzinger user interface.
---
Quote of the month
It's never too early to consider the total customer experience. In fact, the earlier the better.
"…the biggest improvements in user experience come from gathering usability data as early as possible in a design project."
---
Save $100 on our next two workshops!
May 25th is the deadline for early registration in our one-day workshop Usability challenges of new Web technologies. We will review many live Web 2.0 examples and explore how to adapt traditional usability techniques to design and evaluate the new generation of web user interfaces. Early registrants save $100. Save even more for group bookings. Come join us. The workshop takes place on Thursday, June 7th.
For our Thursday June 21st workshop Designing usable web-based applications, sign up before June 8th for the early registration discount of $100. Web applications are becoming as powerful as the ones on our desktop. Join this workshop to explore the challenges of designing web applications, and come away with tips, techniques and current best practices for providing high-value services that enable your users to fulfill their goals effectively and efficiently.
We'll also run either workshop at your location for 5 or more people: call us: (613) 271-3001.
---
If you have any comments
on The Insighter, or ideas on usability topics you'd like to
hear about, send us an email
with your comments.
We invite everyone to subscribe to the Insighter,
our monthly e-newsletter.
If you wish to unsubscribe,
just send
us an unsubscribe email.