Design Concepts & Usability Testing - Government of Canada
In late 2011, one of our usability testing clients took the top prize in the Excellence in Public Service Delivery category at the GTEC Government Technology Awards. BizPaL® is a front-end "web discovery system" to help business owners and entrepreneurs find and evaluate all required permits and licenses. Descriptions and links to the items are provided by federal, provincial and municipal government partners. When the user selects a link (e.g. as seen below, to an online permit application form), they transition from BizPal to the partner site to complete their task.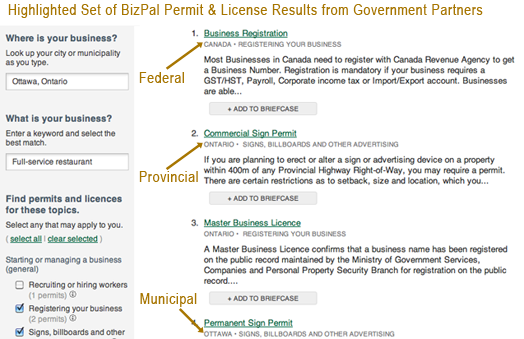 In a subsequent project with another team at AgPal.ca, we conducted iterative design concept and usability tests for a program and service discovery system that works across federal, provincial and agency sources.
For both discovery system projects, we worked with business transformation company Systemscope, and with government employees to form a multi-disciplinary team. Each team worked synergistically to quickly build and test working prototypes using a user-centred design process. Other team members have some great stories to tell about about this terrific process, and about BizPal itself, in links at the end of the case study.
User tasks don't end with the discovery
As with any usability testing study, the starting point for both projects was identification of the top tasks. Both teams had extensive data to help us determine the top tasks those permits and licenses or services most frequently sought by users.
Once we had had created a representative set of clear and comprehensive tasks, we had to decide:
Should we stop when they choose a target link and thus have time to test more top discovery tasks?
Or, should we test the whole task, from start to completion of the task on the discovered site?
We made this decision independently for each round of testing in each project. For one project, there were severe time constraints in the test sessions, and we had many questions about the discovery process itself, so we stopped after the initial discovery. In the other project, by the second round of testing, we decided to measure a few tasks to completion on the discovered site. Some tasks were selected because of hypothesized barriers to task success within the partner's site.
Usability domino effect: The results of the testing were shared with the government agency responsible for the particular page. As a result of our testing, pages for each program have been created and linked directly to the discovery targets. Partner agencies will be trained to apply the following design principle.
Welcome pages slow task progress
Hitting a welcome or broad category introduction page slowed usability participants down during our tests. The link to continue the task was often the only link on the page and yet the page content and layout seemed to imply "you'll want to read all this information about us before you continue". Needless to say, usability participants usually huffed, read none of it, and clicked the link immediately.
Usability Domino Effect: Video clips of usability participants skipping past the unnecessary steps have encouraged BizPaL and AgPal partners to remove self-promoting text and orient links and pages to user tasks.
Talk to us about how to implement and manage end-to-end task success, on your sites or on discovery systems.
---